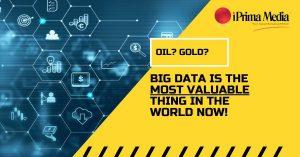 The era of Big Data is coming.  Do you know about it?
Reasons of Crude Oil And Gold Losing Their High Status
Since December 2019, the world's crude oil prices have continued to fall, and this situation has not improved until this article is written. You may say that the performance of gold has not been particularly bad in the last 1 year. 
However, the principle of crude oil price reduction and gold price increase has become unstable since two weeks ago, and even the two prices have been reduced together. Do you know why this is happening? 
It is because when the safety of people all over the world is threatened, neither crude oil nor gold is the most valuable. The most valuable things at this time are basic supplies such as food, medical supplies, face masks, etc., which can protect our lives.
So Why Is Big Data?
Credit: Analytics Vidhya
We all know that people have many needs, and these needs are different at different times. But does anyone know what is the most valuable thing in every moment?   At this point, you should know that perhaps the most valuable thing is not the thing itself, but the information that tells you what is the most valuable currency. And this is Big Data itself.
I would say that Big Data is the most valuable thing, not because everyone has been talking about Big Data in recent years. Let me tell you a simple way. If you want to know what is the most valuable, then as long as you look at what is restricted by the antitrust law, then it is the most valuable thing. According to this rule I said, what was restricted in the last century was oil, but what is restricted now is Big Data.
Alphabet (Google's parent company), Amazon, Apple, Facebook and Microsoft, these companies look unstoppable, and in fact at least in the medium to long term they do. They are the five most valuable listed companies in the world. Their profits are soaring: In the first quarter of 2017, their net profit totalled more than $ 25 billion. Amazon accounts for half of all money spent online in the United States. Last year, Google and Facebook accounted for almost all of the growth in digital advertising revenue in the United States. By the same way, let us look at  Taobao, Tianmao in China and Shopee & Lazada in Malaysia as well as Singapore, and why Alibaba acquired Lazada.
From the data and evidence I mentioned above, even if we cannot understand the logic inside, but we can still understand one thing, that is, if you know about people's consumption habits, then you are equivalent to owning a vault, and the key of this vault is Big Data.
In Big Data's Logic, Quantity Itself Is Quality
Credit: Analytics Vidhya
What has changed? With the popularization of mobile phones, networks and GPS, Big Data becomes more and more valuable. No matter what you do in this era, you will leave digital traces. You will write down what you ate and record your mood on Facebook. No matter where you are and where you're going, GPS knows and even suggests a better way for you, because he is more familiar with the streets you often walk than you and your habit of choosing a route. What do you check on Google, and Facebook will advertise it to you. Sometimes they know what you want more than you.
With the advent of the 5G era, there will be more things connected to the Internet, such as watches, cars, and even other things such as refrigerators, which will provide more nutrients for Big Data and make AI know your behaviour more clearly.
This abundance of data has changed the nature of competition. These technology giants have always benefited from the network effect. Here is a simple example with Facebook, when more people register as Facebook users, it will attract more people to register as Facebook users. In addition, the more information a company collects about its products, the more they can understand the market and bring corresponding improvements to their products.
It Is Time For You To Moving Your Business Online!
Credit: The Balance Small Business
If you can't become it, then why not you become a part of it, and share its profit! An easy way for you is to start managing your Business Facebook Fan Page and move yourself to the front of your customer & potential customers.
Start making some good posts and uploading some good copywriting on your Facebook Page. Of course, if you are busy and want to find someone to help, we will be happy to provide you with this service. So what are you waiting for, find out now!
Find Out More With Clicking Me!
Read More:
5 PROVEN Ways: Social Media Marketing Could Increase Sales By XXX%
Taking A Blog From 100 To 100K Pageviews/Month! (Hint: This Is Google SEO)