China Press and Iprima Media Digital Marketing work together to launch video creating and copywriting promotional packages to quickly increase your company's brand exposure and grow your business!
China Press is the most influential Chinese media and leading the Chinese news network in Malaysia. Meanwhile, Iprima Media Digital marketing has more than 10 years of practical experiences in digital marketing and assisted over 1,000 traditional occupations in digital transformation.
The aim of the collaboration between the both parties is to provide customers and businesses with high-quality digital advertising via news and videos content creation. Here are the 4 exclusive features China Press and Iprima Promotional Package that you shouldn't miss.
Promotional Package Features 1: Marketing and Advertorial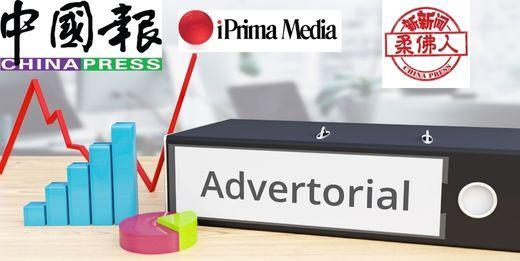 Whether you're launching a new product or service or simply trying to get your brand out there, advertising campaigns can help you reach more of the right people.
Advertorial is a type of paid advertising that draws attention to your core message and is an important next step in making your digital marketing strategy work. With more brand exposure and awareness, you can quickly achieve your business goals, from building a customer base to increasing sales volume. Other than that, Advertorial allow your customer to understand your products or services better, thus creating a customer trust toward you and getting you one step closer to make another sale.
In this promotional package, you can place your advertorial in China Press Johor website and promotional video at China Press Johor Facebook which worth RM700 and RM500 respectively.
Promotional Package Features 2: Digital Content Creation
Content creation is the foundation of all modern digital marketing activities. It is defined as the process of conducting research, generating strategic ideas, processing those ideas into quality materials, and promoting those works to a target audience. The ultimate goals of content creation are to attract new and returning customers.
To stand out and impress your customers as well as potential customers from the millions of contents that are published online every day, your content needs to be of high quality. You need to understand the needs in the audience mind, instead just focusing on the writings and design. It is easy to identify different between good content and bad content where good content rises to the surface while bad content disappears into the void of the web.
Iprima Media is a great choice for outsourcing video editing when you don't have the time or bandwidth to do it in-house. With our video maker service, you can have videos ready for multiple media platforms in no time. Moreover, our team will accompany your project from the beginning till it ends. We offer everything from advice and brainstorming, to video creation and video post-production. Our video editing service combined with China Press will gives you the tools you need to make a difference.
In this promotional package, we will help you to create a 1-minute video shooting production which worth RM1,000.
Promotional Package Features 3: Professional Host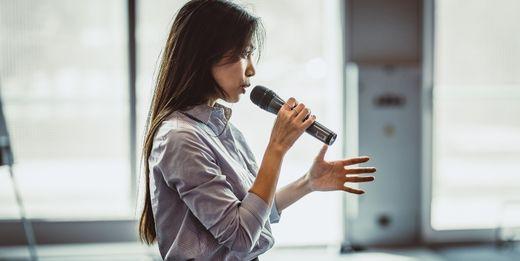 A host or KOL/KOC refers to an individual who has multiple business capabilities such as collecting, editing, broadcasting, and controlling, and is an editor, reporter, and announcer in a relatively fixed program.
Professional hosts have extensive reading experience and extensive knowledge collections on particular subjects. Only in this way can they have a broad mental vision and form reliable discernment and accurate and trustworthy judgment.
Professional hosts have very good temperament, giving them ability to govern how people think and communicate. Apart of that, they are also a good observer and able to calmly resolve all tense situations in any programs at the same time they received any critics with open-mind.
Promotional Package Features 4: Variety show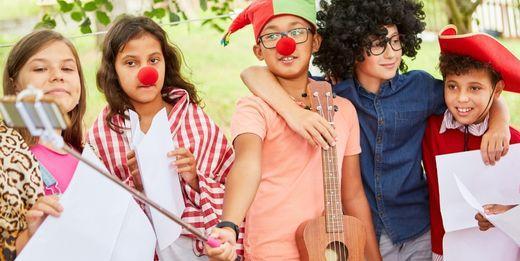 Variety show, also known as variety entertainment, is a theatrical entertainment that consists of successive separate performances such as musical performances, sketch comedy, magic, acrobatics, juggling, and ventriloquism. The show is usually introduced by a compère (master of ceremonies) or moderator.
The theme goes beyond the creative passions of event agencies where it allows you to communicate the purpose of your event in a playful way and keeps participants coming together around a common idea. Carefully selected theme can foster networking and learning with potential customers to your products or business which even able to generate the revenue needed through it. We will plan and find suitable themes with relevant amenities for the show which will display your products or business in a memorable way for the audiences.
In this promotional package, we will help you to design and create a 20–30-minute variety show which worth RM2,700.
Conclusion
Digital transformation helps businesses meet new customer demands and face the future and survive. This allows companies to be more competitive in an ever-changing economic environment as technology develops.
Successful companies are those who create smart experiences and customer journeys that enhance and complement people's lives. Companies will soon become obsolete if they do not take advantage of the digital transformation and make use of data to predict demand trends and make decisions to improve their workforce.
Are you ready to transform your business? Do you want to your business or products gain more exposure? Do you want to reach more customers as much as you can ever imagine? Do you want to make more sales?
The opportunity to transform your business is now here available for you and the price required is only RM3,800 where you can enjoy all the 4 exclusive features which worth RM5,800. "Life opens up opportunities to you, and you either take them or you stay afraid of taking them." – Jim Carrey.
ABOUT IPRIMA MEDIA

iPrima Media is a well-known Digital Marketing company based in Singapore and Johor Bahru. With over 10 years of experience in online Marketing, iPrima Media has created successful Digital Marketing for more than 1000 businesses and brands.
We provide:
Social Media Management
SEO / SEM Marketing
WEB & ECOMMERCE
KOL/KOC Marketing
Youtube Channel Building
Professional Product Photography
Corporate Branding, PR & Advertising
If you need to outsource your advertising planning or any attractive and creative marketing idea, feel free to check out our service.