SEO is one of the most effective ways to make sure customers find your brand online. It helps to keep your website afloat in a sea of competition. But if your website is not showing up on the first page, have you ever done an SEO audit to find out why?
Yes, you have heard of SEO and have been implementing to your website. But you may not know that you may be heading the wrong way, which caused your website not to appear on the first page.
You will need a strong foundation for your SEO to stand a chance of ranking high. A regular SEO audit will help you build up the foundation of your SEO strategy. It is a long-term commitment to implement an SEO strategy, but doing an SEO audit every day can be frustrating.
How often should you do an SEO audit? We will discuss more in this article to get you started to improve your presence in organic search results.
What Is An SEO Audit?
Before discussing it deeper, let's understand the basics of SEO audit. You will have to go to a doctor to checkup your health, well, it goes to the same with SEO. SEO audit helps to check the health of your website to look out for any issues and optimize it.
It helps to evaluate the factors that impact your website ranking in search engine results pages. These include checking your website's on and off-page SEO and technical SEO performance. It is important to do an SEO audit as Google changes its algorithm, often following new technology and search patterns.
With a proper SEO audit, you can analyze how your current SEO strategy is working, and you can take immediate action to reorganize your SEO strategy if it is not working well.
How Often Should You Perform An SEO Audit?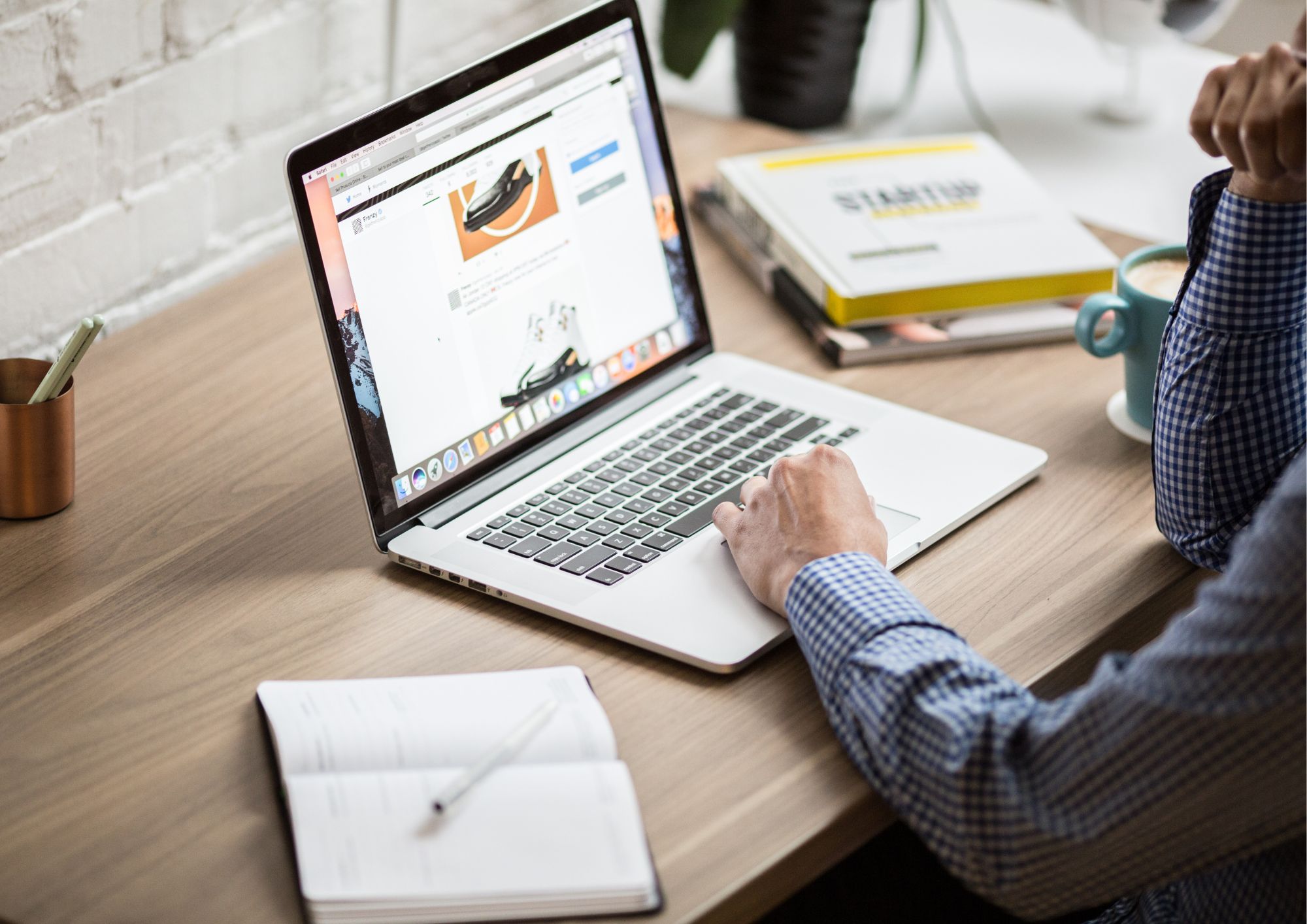 There is no definite answer on how often you should perform an audit for your SEO. It is like spring cleaning. You don't have to do it daily, but you must do it occasionally. There are a few factors you will want to consider when you want to decide how often to do it.
First of all, it depends on the size of your website. The larger the website is, the more the audit is required. Another factor will be the industry benchmark. Certain industries can be quite competitive, and keeping on top of the SEO health will be more challenging. You may want to consider doing the audit often.
The current state of your SEO health is another factor you should consider to determine how often you should do an audit. If your website has a lower SEO health score, you will want to do the audit more often until it reaches a minimum threshold.
Finally, it will be how much you depend on your website to convert conversion. If you rely a lot on online-driven revenue, you will want your website in a good SEO state where customers get to find your website easily.
So how often do you do an audit? A small, local business may do a complete SEO audit every 6 months. But for a larger website, such as an eCommerce site with more moving parts and regular content, the audit should be done weekly, making it easier to detect and solve errors immediately.
Performing technical site audits can be frustrating, but it is an important part of ensuring your SEO strategy isn't derailed by unnoticed errors. If there are any significant changes in your ranking or a drop in organic traffic, you should also perform an audit to check out the reason.
What Do You Need To Include In An SEO Audit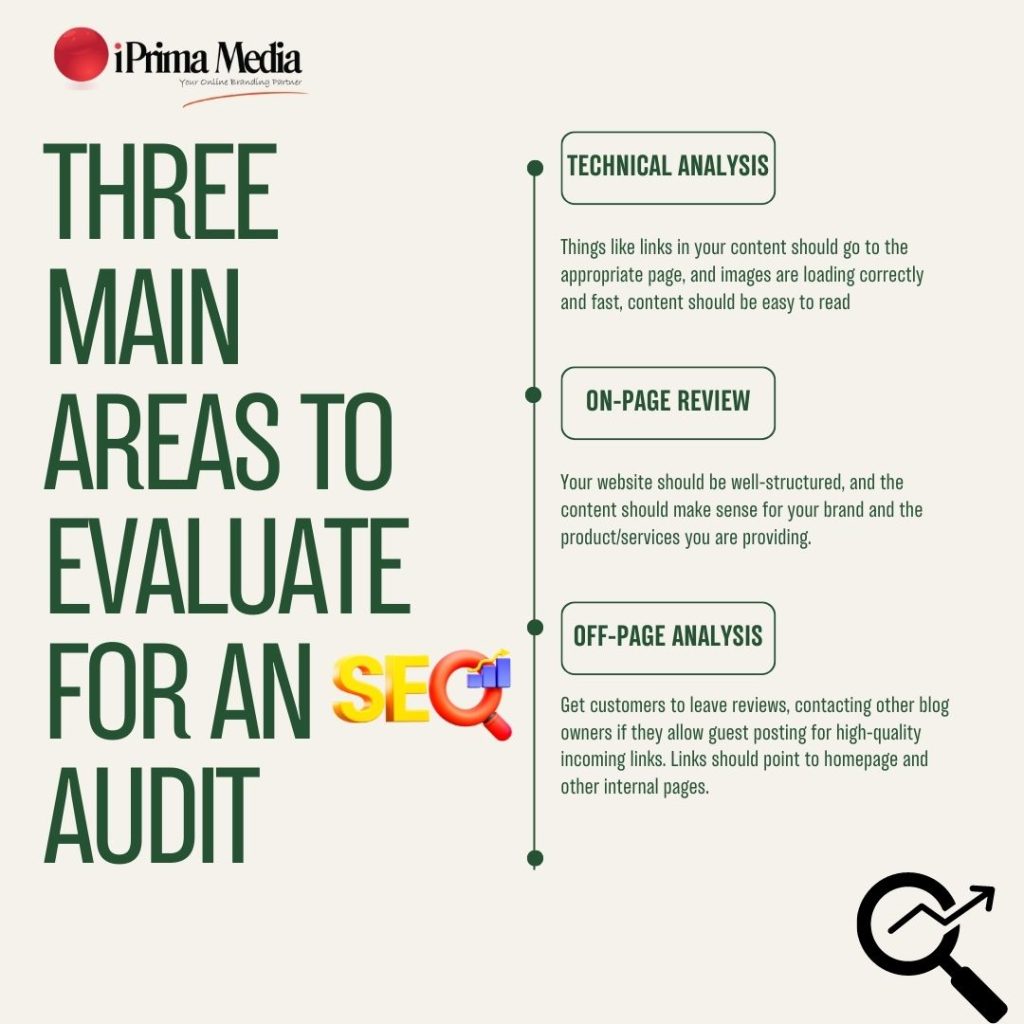 You may be clueless if you do an SEO audit for the first time. Sometimes, even those who do it often may leave things out. You don't have to be a website expert to understand SEO setup and keywords. Various tools can help you with the audit.
The are three main areas to evaluate for an SEO audit. The first step you want to do is the technical analysis. You want to ensure that your website is working the way it should. Things like links in your content should go to the appropriate page, and images are loading correctly and fast, content should be easy to read, etc.
There are site analysis tools to help you check through the technical details quickly, and you wouldn't need to do it manually. If you have an IT team, you can let them handle it and recommend the fixes.
The next step will be an on-page review. Your website should be well-structured, and the content should make sense for your brand and the product/services you are providing. Keywords are important when creating content, and you need to evaluate them.
Go through your content. Whether it is your homepage or blog categories, you want to ensure that the content aligns with your current business direction and goals. You should be writing content on focused topics, and it helps Google consider you an authority in your specialized area, or it will hurt your ranking.
Ensure that your website pages are not duplicating the same text. It can confuse Google's web crawlers as they won't know which page to index. When deciding on the keywords, you want to check the ranking difficulties and search engines. Use the Google Analytics dashboard and Google keyword planner to help.
The final step will be the off-page analysis. This is the most challenging part as it is within your control. Everyone wants Google to recognize their website as a trusted authority. But it is affected by a lot of elements in this part. This includes incoming links, and online reviews.
When doing an off-page analysis, it is best you can get customers to leave reviews. You can develop a strategy for linking, such as contacting other blog owners if they allow guest posting for high-quality incoming links. But make sure that not all the links are pointing to your homepage. Consider doing some linking for other internal pages too.
This is how important an SEO audit is for your website. You will want to plan one for your business. If you are unsure what to do, contact an agency to help you.
ABOUT IPRIMA MEDIA

iPrima Media is a well-known Digital Marketing company based in Singapore and Johor Bahru. With over 10 years of experience in online Marketing, iPrima Media has created successful Digital Marketing for more than 1000 businesses and brands. We provide:
Social Media Management
SEO / SEM Marketing
WEB & ECOMMERCE
KOL/KOC Marketing
Youtube Channel Building
Professional Product Photography
Corporate Branding, PR & Advertising
If you need to outsource your advertising planning or any attractive and creative marketing idea, feel free to check out our service.